Chamonix, the first Olympic Winter Games took place nearly 100 years ago!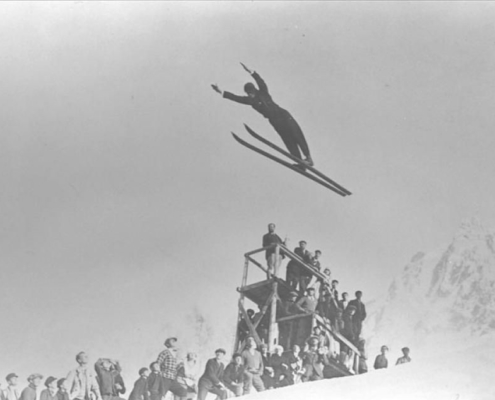 The Winter Olympic Games opened on 25 January 1924 in France, almost three decades after the summer version.
Nearly a century ago, 258 athletes from 16 countries caught the attention of more than 10,000 spectators to shape what would later become known as the first Winter Olympic Games. In the foothills of the French Alps, in a small village called Chamonix, 16 sporting events over 10 days from 25 January to 5 February 1924 constituted what was then known and authorised by the International Olympic Committee since 1921 as the International Winter Sports Week.
One day after the inauguration, the first gold medallist was already known, the American Charles Jewtraw, who won the 500m event in speed skating. Despite not having prepared properly as he was retired at the age of 24, he won the gold medal. The Scandinavians overall won the event, but it was Finland's Clas Thunberg who was the biggest star, winning five medals, three of them gold.
Norway topped the medal table with 17 medals in total. The official IOC website has a collection of photographs from the event, which will soon celebrate its 100th anniversary. Later in the summer, France would again host the Olympic Games but in the summer version in the capital, Paris, and the IOC would recognise this edition in 1925 as the first of a new sporting event to be organised every four years.
10,000 spectators from all over North America and Europe attended the competition.
A poster with the poster of the 1924 Winter Olympic Games in Chamonix (France). Some 5,000 copies were produced.A poster with the poster of the 1924 Winter Olympic Games in Chamonix (France). Some 5,000 copies were produced.
More than 250 athletes from 16 countries took part.
France, Norway, Finland, Austria, Switzerland, the United States, the United Kingdom, Sweden, Belgium, Canada, Czechoslovakia, Hungary, Italy, Latvia, Poland and Yugoslavia competed in the first Olympic Winter Games.
The 12-day event began with a 500-metre speed skating event.
Norway's Sonja Henie competed as an 11-year-old in the women's figure skating event. She finished last, but went on to win gold at each of the next three Winter Olympics.
The Canadian ice hockey team scored 85 goals against Switzerland, Czechoslovakia and Sweden without conceding a single goal. As the medal ceremony was not held until the last day, some athletes had already returned home.
France could not win any gold medals and had to settle for three bronze medals. Norway led the overall standings with 17 medals.